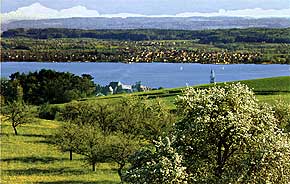 Culturally and scenically, the Lake Constance belongs to the most interesting recreation areas in Germany. In the change of the season, Lake Constance has many faces. Have you already experienced the fruit bloom here? Or a winterly snowy sea landscape?

Let yourself be pampered from the climate and be charmed from the nature. Wether with extended hikings or with multivarious sport activities – everyone finds his / her individual vacation paradies!

Experience a one of a kind grown ambience in a 300-year-old country house. Relax in modern, widely spacious rooms at the same time.

And in the romantic chimney restaurant enjoy the typical regional cuisines which have been distinguished several times.

In this charming combination you will experience a country hotel which has been in family business since 1913.

Laid in the heart of a fruit-farming village, sun terraces and yards to lie on offer a lot of snug places to relax at full ease. If your looking for more night life, there's the Uberlinger sea promenade after 3 km www.romantic-vacation.com www.burg-hotel.de | www.germancastles.com | www.rhinecastles.com
.